SCC Adds Metal Additive Manufacturing Technology
Published on Aug 14, 2019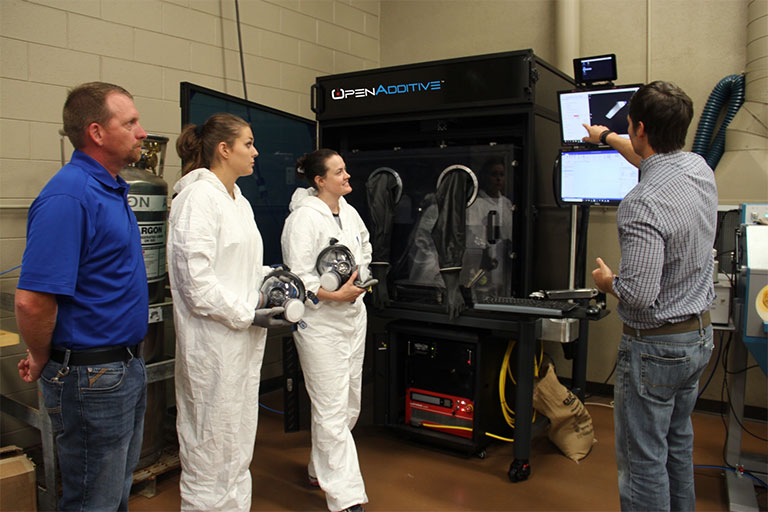 Somerset Community College (SCC) has become the first college in the Kentucky Community and Technical College System to add metal additive manufacturing to its impressive advanced manufacturing capabilities. SCC is a leader in workforce development and in additive manufacturing/3D printing, also the first institution of higher education in Kentucky to offer a technician certificate in 3D printing.
This field is vital to the state's future economic growth as aerospace, automotive, medical, and other industries are increasingly adopting metal additive manufacturing for production applications. Noting that aircraft and automotive parts are Kentucky's two most economically important exports.
SCC selected the OpenAdditive™ PANDA laser powder bed fusion system from Universal Technology Corporation for its training and education needs. At an affordable price point, the PANDA system offers openness in design and operation to enhance instructor and student experience in understanding the laser melting additive process.

The system was installed only a few months after ordering, and included processing parameters and powder feedstock for printing in tool steel, stainless steel, and other metals. Peripherals included powder recycling and disposal equipment, post-processing equipment, and onsite training, as an integrated solution for metal AM education.
For more information on SCC's Additive Manufacturing program, please visit www.Somerset.kctcs.edu/3dprinting or check out their YouTube channel, The Additive Guru, dedicated to 3D printing https://www.youtube.com/user/cadscc
Please contact info@openadditive.com for more information on their system offerings for training and education.
SCC currently offers a certificate in Additive Manufacturing/3D printing and offers additional training through the college's Workforce Solutions program. To find out more about SCC's additive manufacturing/3D printing program, contact Eric Wooldridge at eric.wooldridge@kctcs.edu or visit us on Facebook.