Morehead State University, Somerset Community College Partner to Offer Bachelor's Degrees at University Center of Southern Kentucky
Published on Aug 1, 2019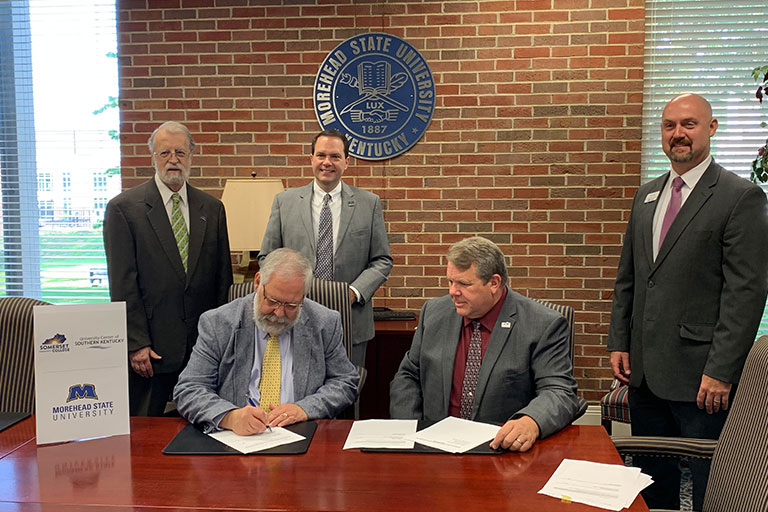 Today marks a moment in Kentucky higher education history as Morehead State University (MSU) and Somerset Community College (SCC) signed the University Center of Southern Kentucky Memorandum of Agreement.
A new partnership provides SCC students with an opportunity to earn a bachelor's degree from Morehead (MSU) on the community college's campus in Somerset.
Beginning this fall semester, MSU will begin admitting students in four online degree programs: Bachelor of Arts in Business Administration with options in Accounting, General Business, Small Business Management & Entrepreneurship and Computer Information Systems; Bachelor of Science in Technology Management, Leadership in Medical Imaging and Post-Licensure Bachelor of Science in Nursing and a Bachelor of University Studies in Professional Studies.
The programs will be offered through the University Center of Southern Kentucky starting fall 2019.
"A growing number of students are working to manage college costs while balancing jobs and family commitments. Having a strong strategic partner in Morehead State University gives students a direct pathway to a high-quality degree, in a more convenient and affordable way," said Carey Castle, president, and CEO of SCC. "In strategically combining the shared values, strengths, and resources of MSU and SCC, we are proactively ensuring an extraordinarily enriched academic experience for current and future generations of students."
The partnership makes earning a university degree more accessible. Under the agreement, students complete half of the degree at SCC's much lower tuition rate and the other half of the bachelor's degree from MSU, yielding an affordable bachelor's degree from a four-year university. Additional fields of study are under consideration.
Students also will have access to MSU's admissions, registration, and academic advising staff from SCC's campus.
"Part of Morehead State University's dedication to student success is not just an experience that combines personalized attention and quality academic programs, but also making that experience accessible and affordable to students and families," said Dr. Jay Morgan, president of MSU. "This partnership with Somerset Community College and the other partnering universities is yet another way MSU is demonstrating our continued commitment to access and affordability for the citizens of southern Kentucky."
MSU has an Enrollment Counselor, Tracy Counts and a College Access Counselor, Sharee St. Louis Smith through the Commonwealth Educational Opportunity Center who are now available to take appointments in the university center which is located on the SCC Campus in the Harold Rogers Student Commons, upstairs in room 210 at 808 Monticello St, Somerset.
For more information, visit the university center webpages to see what programs are being offered. Contact the University Center office 606-451-6667 or e-mail sccuniversitycenter@kctcs.edu.