Program Helps Veterans Transition to Aviation Careers at SCC
Watch the Spectrum News 1 coverage here.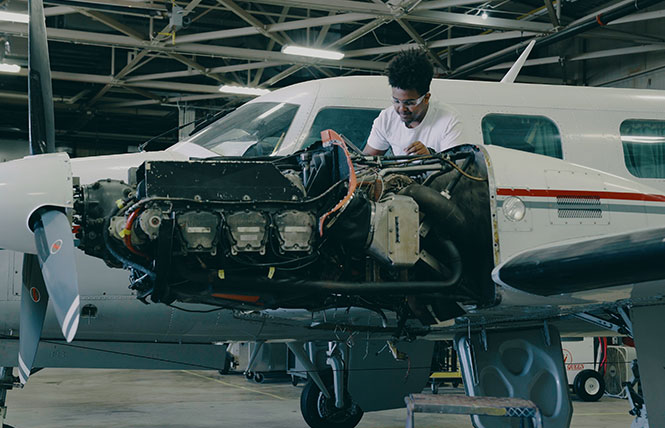 At a time with continuing technological growth, the aviation industry faces a critical labor shortage. The Aeronautical Repair Station Association reports more than 2,500 unfilled technical positions in 2018. With the industry continuing to expand, a Kentucky program works to fill the gap while helping veterans along the way.
The Veterans Accelerated Learning for Licensed Occupations Initiative, known as VALLO, helps veterans transition into civilian life by helping them get Federal Aviation Administration certified.
Somerset Community College (SCC) aviation maintenance professor David Phelps said the program gives students hands-on experience.
"For veterans, getting them out there and getting them gainful employment is the number one goal for the program. That's what we want to do. We want to assist them any way we can. They've taken care of us. We want to return the favor," Phelps said.
By condensing the 18-month certification program to one semester for qualifying veterans, VALLO helps those veterans enter the workforce faster. Somerset Community College president Carey Castle went through a similar program when he retired from the Air Force.
"When I retired from the Air Force, I had 26 years of experience working on airplanes. I understood a lot of things, but I didn't have the FAA certification to do that," Castle said.
With the labor gap, company representatives come to Somerset Community College specifically seeking candidates. Phelps said some of them specifically request veterans in the program.
"They are already well trained. They know when and where to come to work. They know what a work ethic is and are willing to put in the work to make it the best they possibly can. For Kentucky, I think this is going to be a plus, no matter what way we look at it," Castle said.
The VALLO program is available to eligible military veterans at Somerset Community College and Jefferson Community and Technical College.

Student veterans can register for the 2019 fall semester, which begins August 19. To submit an application to SCC, visit campus at 808 Monticello Street in Somerset, or 100 University Drive in London, or submit an application online somerset.kctcs.edu.
For more information about the Aviation Technology program, please contact Donnie Hammonds at Donnie.hammonds@kctcs.edu.