New Technology is Helping Students in the Emergency Medical Services-Paramedic Program at SCC
Published on Jun 17, 2019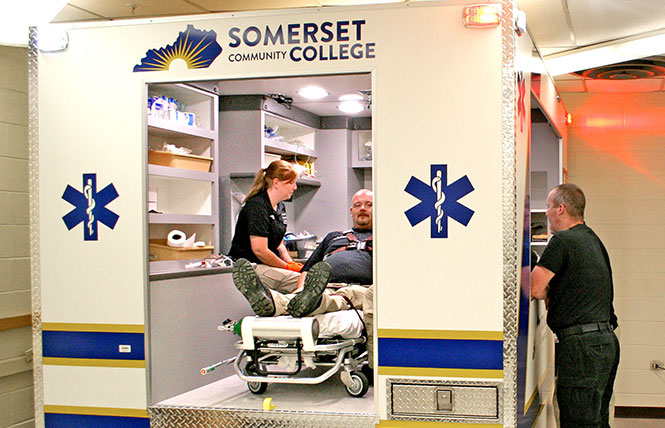 Somerset Community College's (SCC) Paramedic program purchased an indoor ambulance box simulator to assist students in performing Emergency Medical Services (EMS) tasks and protocols in a realistic environment.
Program Coordinator Tracey Franklin says this type of training is necessary because "it's our responsibility to make them (the students) work-ready." And, she notes that being ready to work is especially important for students in this program because "we have a 100 percent employment rate."
EMS-Paramedic classes are held on both SCC campuses and students can earn a Certificate or an Associate of Applied Science degree. The 17-month program begins on the London campus in August and on the Somerset campus in January. Samantha Feldman serves as a clinical coordinator and Laurel campus Instructor.
Franklin said that the Laurel campus already has a "modified ambulance box" used for instruction that "functions the same as the simulator." In Somerset, however, until the arrival of the new simulator students had been training in a donated ambulance.
Because the vehicle was outside and had no climate control, all medical supplies and equipment had to be restocked for each use. Also, the weather would sometimes dictate when those classes could be held.
There are none of these concerns with the new simulator, so students can concentrate on perfecting their knowledge of field operations and critical thinking skills. Using what they've learned in lectures and classroom study, students regularly use the simulator for "practice scenarios" that "model real-life experience."
Franklin noted that program faculty write the scenarios "based on national clinical guidelines."
Three students are directly involved in each 20-minute exercise. They take turns being the team leader, a team member, and the patient. One side of the simulator is open so that other students and the instructors can watch how the group handles the situation.
After each exercise, the student observers evaluate the actions of their classmates. Then, instructors provide feedback to all involved.
Although the simulator has only been used for a few weeks, Franklin said, "it's made a huge difference" and that the students "love it."
She said these exercises are also important to students because they can be used as "part of their out-of-hospital formative training" and because "scenario testing" is required for the National Registry exam.
For more information about SCC's EMS-Paramedic program, contact Tracey Franklin at 606-387-3718 or tracey.franklin@kctcs.edu.