SCC to Extend Hours through June and July
Published on May 17, 2019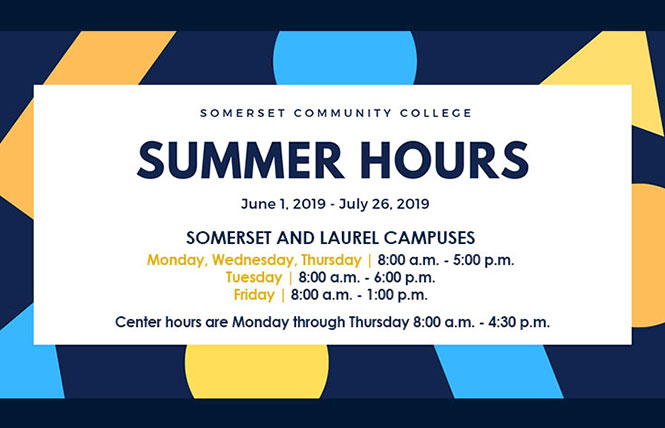 In an effort to better serve our students Somerset Community College (SCC) has announced extended summer hours for the months of June and July.
All college campuses (Somerset and Laurel) will be open from 8:00 a.m. to 5:00 p.m. Monday through Thursday and from 8:00 a.m. to 6:00 p.m. on Tuesdays. All campuses will be closing early on Friday with hours 8:00 a.m. to 1:00 p.m. The centers (Casey, Clinton, McCreary and Russell) will be open Monday through Thursday 8:00 a.m. to 4:30 p.m.
"The extended hours will allow us to better serve our students, especially those who work and have families," said Tracy Casada, vice president of student affairs. "Our students come from all walks of life and it is important that we adjust our schedules and services accordingly to make sure we are meeting their needs."
Online and in-person classes are offered through SCC in many different academic areas this summer. These classes can help students earn college credit whether enrolled at SCC or currently attending another college or university. The first round of summer classes at SCC begin May 20, with other sessions starting later. There is still time to enroll.
Students can register now for the summer term. All of the college's student services, including admissions, financial, aid, advising and testing centers will be available during extended hours.
Students seeking 24/7 support can utilize SCC's Student Service Center at (855) 66GO-SCC.
Students can also proceed with registering for the 2019 fall semester, which begins August 19. Registering early can help students get their first choice in classes.
To submit an application to SCC, visit campus at 808 Monticello Street in Somerset, or 100 University Drive in London, or submit an application online somerset.kctcs.edu.