SCC's Student Newspaper Wins 17 Kentucky Press Association Awards
Published on Feb 13, 2019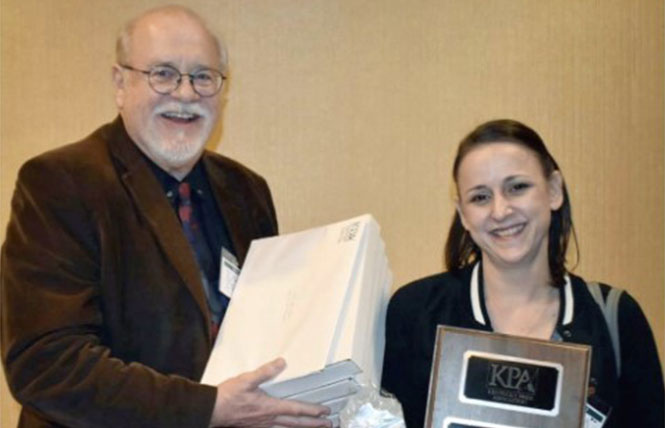 The past year has been a time of change for Somerset Community College (SCC), with new leadership, new programs, and emerging new degree opportunities. However, one thing has remained constant: SCC's award-winning student newspaper, The Bridge.
Once again, The Bridge and its staff have been honored by the Kentucky Press Association, winning 17 awards in KPA's annual Excellence in Kentucky Newspapers Contest, including – for the second consecutive year – second place in the prestigious General Excellence category.
The honors were announced at KPA's Winter Convention in Louisville on January 25. The Excellence in Kentucky Newspapers contest recognizes outstanding work by reporters, columnists, photographers, designers, and advertisers from the commonwealth's professional and college newspapers.
The only two-year college newspaper competing in the contest's Student Publications, Class 1 category (schools with fewer than 10,000 students), The Bridge finished a close second to the University of the Cumberlands' student newspaper, The Patriot, for top honors. Bellarmine University's The Concord finished third.
SCC faculty advisors for The Bridge are Stuart Simpson and Jeff Harris. The graphic design advisor is Marlene Larkins. "This past year has been one of transition for SCC, and it's good to see our students recognized for their professionalism in reporting these changes," Simpson said, noting, in particular, The Bridge's first place award for Best On-Going/Extended Coverage Story.
The staff wrote multiple stories on the retirements of SCC President Dr. Jo Marshall and Provost Dr. Tony Honeycutt, as well as the search and selection of a new president, Dr. Carey Castle. "The unexpected retirement of a long-time college president is big news," the KPA contest judges noted, "and The Bridge staff did a great job offering both news and context to its readers."
In addition to its overall second place for General Excellence, The Bridge's staff won five first-place awards, four second-place awards, six third-place awards, and the annual Russ Metz Memorial Award.
Savanah Alexandra Colangelo, The Bridge's managing editor during the fall 2017 semester, won a total of six awards, including first place for Best Picture Essay. As the contest judges remarked, Colangelo produced "a nice collection of photos of what it is like to be disabled."
Colangelo also received second-place awards for Best On-Going/Extended Coverage Story and Best General News Picture, and third-place awards for Best Feature Story and Best Feature Picture. She also shared a third-place award for Best Business Story with staff member Leighton Coffey.
Coffey won a first-place award of his own for Best Feature Story. The judges said that Coffey had done a "nice job (of) keeping the focus on the source rather than self."
Alyson Branscum, The Bridge's managing editor for the spring 2018 semester, won a first-place award for Best Breaking News Coverage for her story on the death of an SCC instructor in a car accident in early March. Branscum also won a third-place award for Best Column.
Ray Hunter, The Bridge's managing editor since the beginning of the fall 2018 semester, won a third-place award for Best Picture Essay and a second-place award for Best Column. The judges said that her column about her son's autism "is interesting, relevant, and well-written."
McKenzie Mullins won a third-place award for Best Enterprise or Analytical Story for what the judges called "an interesting look at (the) possibility of tuition-free college in the commonwealth."
In addition to first place for Best On-Going/Extended Coverage Story, The Bridge received staff awards for Best Front Page (second place) and for Best Use of Social Media (first place). Simpson said the latter award was especially gratifying for the staff. "Social media is an area of journalism that the staff has been focusing on for the past couple of years, and I expect followers will be seeing even more and even better content in the future," he said.
Hunter also accepted the 2018 Russ Metz Memorial Most Valuable Member award during the KPA convention. The award is presented each year by the KPA president to individuals who perform outstanding service. Hunter found it a humbling experience. "Nobody gets into journalism to be congratulated, but it means a lot to have tangible proof that our efforts are noticed and appreciated," she said.
For Harris, the year-to-year performance of The Bridge staff is a point of pride. Over the past three KPA contests, the staff has received a grand total of 50 awards, including two second-place finishes and one first in General Excellence.
"What they have done is amazing, really," Harris said. "We have fewer students on staff than the four-year schools we compete with, fewer resources too. But our students are no less talented and no less passionate about the work."
Simpson added that "we also need to thank the college's administration, faculty and staff for the support they've shown The Bridge and its staff."
For more information about The Bridge, contact faculty advisors Jeff Harris (jeff.harris@kctcs.edu) or Stuart Simpson (stuart.simpson@kctcs.edu).