SCC Physical Therapist Assistant Program Announces Clinical Educator of the Year
Published on Dec 20, 2018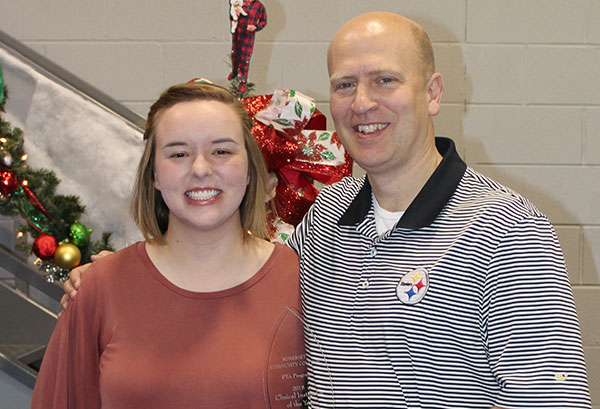 Jim Rothbauer, a physical therapist with Bluegrass Orthopedic & Sports Physical Therapy in Lexington, KY, has been named the 2018 Outstanding Clinical Educator by the Physical Therapist Assistant (PTA) Program at Somerset Community College (SCC).
The Outstanding Clinical Educator award is presented annually to one physical therapist assistant educator who demonstrates excellence in teaching and a commitment to the ideals of the physical therapy profession. Rothbauer was nominated for the award by Sarah Withrow, a 2018 SCC PTA program graduate.
Rothbauer is a native of Pittsburgh, Pennsylvania where he grew up before pursuing a career in physical therapy. He is a 1991 graduate of Marietta College in Marietta, Ohio where he earned his Bachelor of Science degree in Athletic Training and a 1993 graduate of the University of Pittsburgh where he earned his Master of Science degree in Physical Therapy. He has served as a clinical instructor for past 20 years and has mentored several students in that time.
"I'm very excited to receive this award, and I really appreciate Sarah for nominating me," said Rothbauer. "I enjoy being able to help students develop clinical problem-solving skills and I hope to stimulate their passion for helping patients achieve their goals."
"Jim's knowledge and ability to teach and inspire students is remarkable," stated Withrow. "I am grateful that I had the opportunity to learn from him as a student and also have him as a mentor as a physical therapist assistant."
Dr. Steve Hammons, the PTA program Academic Coordinator of Clinical Education, said, "We are extremely pleased to recognize Jim with this award for the contributions he has made to our program and the physical therapy profession."
To find out more about the SCC Medical Assisting program, contact Debra Elam, program coordinator, at (606) 878-4778 or debra.elam@kctcs.edu.