SCC's Student Led Podcast is Back in Full Swing
Published on Oct 6, 2020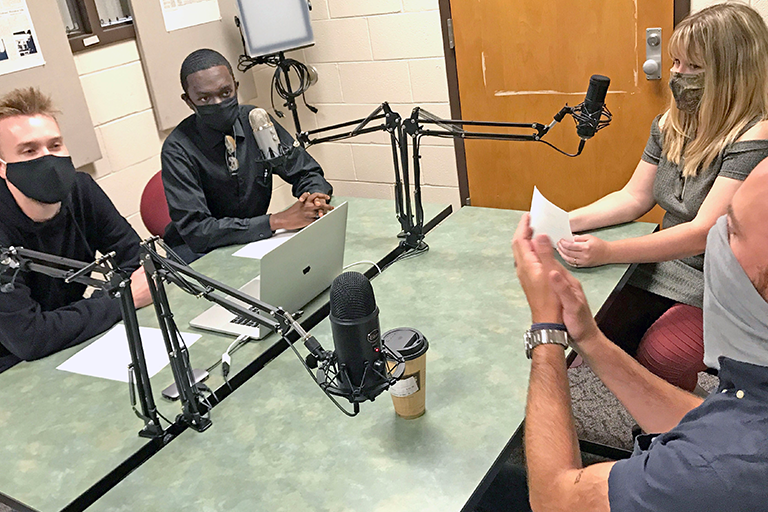 After turning on and adjusting the equipment, there's a loud hand clap to synchronize the audio with the video. It's on that note another taping of Somerset Community College's The Gateway begins. The podcast/video interview show is directed, hosted and edited by SCC students as an extension of the college newspaper, The Bridge. While the newspaper has increased its social media presence over the past several years, the production quality and regularity of The Gateway has brought new attention to the effort.
The podcast began last spring as the brainchild of Demareon Jones. A student newspaper staff member, he brought experience from other podcasts and a digital marketing background to the project. Jones, now assistant editor of the paper, says he wants the SCC series "to bring a creative voice to The Bridge" and notes that learning the technology used to produce the show is "a great skill set for students."
Noah Allen contributed to the spring podcasts and continues his association with the project this fall, now as a member of the newspaper staff. "When I had originally spoken to Demareon about volunteering last semester, the whole reason behind it was just to show people that you can find interesting people anywhere," he said. "It does matter if you're in a small community ... or if you're in New York City, there are interesting people everywhere that all have a story."
Only a couple of shows were taped in the spring before the college had to move to distance learning due to the pandemic. This fall with students back on SCC's campuses and centers the project is back in full swing.
Guests on the podcast have included Steve Cleberg, former SCC theatre director; SCC student Joel Brinson; Keith Greene, career advisor and blues musician; SCC President Dr. Carey Castle; and Adam Hopper, a band director and musician. New shows are released each week as "SCC The Bridge" on Facebook (video), and on Anchor and Spotify (podcasts). Programs featuring guests are recorded every two weeks and members of the student staff are featured on alternate weeks.
Christen Gibson, newspaper managing editor and also a podcast host, says she is "very happy" with this social media expansion and that it is necessary for the publication. "I think it's very essential to journalists and The Bridge student newspaper in the future because everything is going online ... and learning those skills is very important," she said. "It's all linked together—The Bridge student newspaper, sccthebridge social media and the podcast."
SCC's award-winning student publication The Bridge begins its twenty-first year this fall semester. It is published in hard copy throughout the year and is available at all SCC locations and online at the college website. For more information on the newspaper, the podcast or how to join the staff, contact faculty advisors Jeff Harris or Stuart Simpson.