SCC is Hosting a Recruiting Event with AMTEC and Boeing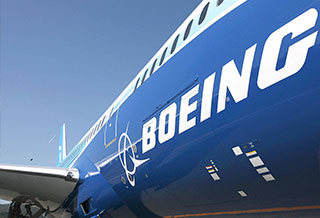 Somerset Community College (SCC) and Advanced Manufacturing Technical Education Collaborative (AMTEC) is hosting a regional open recruiting event with Boeing at SCC on September 28, 2018 for open positions in their facilities in Washington state.
"We think this is a natural extension of our partnership with Boeing. We have been working together for about four years and this is an additional service we can offer that benefits KCTCS students and one of our premier industry partners" added Jason Simon, AMTEC's Innovation Manager.
All KCTCS colleges that have FAME and Industrial Maintenance Technology (IMT) programs utilize the AMTEC General Mechatronics Exam as an exit assessment tool. This is the same assessment that Boeing and other industry leaders use as a pre-hiring tool.
SCC's faculty member Butch Tincher, who also serves as an AMTEC Technical Expert, has visited Boeing's facilities multiple times as part of an AMTEC site team. He commented, "AMTEC industry partners also participate in a Skills Gap Analysis. We use these analytics at Somerset to align our curriculum with the needs of industry. Now when our industry partners have openings, they know the quality of our students. Boeing's visit is confirmation of the value of this collaboration."
The recruiting event is scheduled for, Friday, September 28 from 10 a.m. - 2 p.m. (EST) and will be held in the SCC Harold Rogers Student Commons, Citizens National Bank Community Room, 808 Monticello Street in Somerset, Kentucky. Boeing human resources will be on hand to answer questions and conduct interviews if the potential candidates have already completed the application process.
Boeing's list of the manufacturing positions which they are actively recruiting for in Washington state include: Electrical Technology, Engineering and Electronics Technology, and Industrial Maintenance Technology.
Those interested may apply in advance of the events at http://www.boeing.com/careers/career-areas/manufacturing.page and register for an account. The Boeing Company's 401K Plan is ranked #2 in the U.S. by Bloomberg Business and Forbes ranked Boeing as the 6th largest company that millennials enjoy working for! They are offering up to $20,000 in relocation packages have an entire team that works with the new employees on every detail of the move. For more information on Boeing's benefits packages please visit http://www.boeing.com/careers/benefits/index.page
Sheri Plain, AMTEC's Director added "While we are promoting this event to our KCTCS graduates or students that are nearing completion in the FAME and IMT programs, this event is open to everyone and incumbent workers with relevant experience are certainly encouraged to apply."
AMTEC is a national collaborative initiative, housed at OCTC, made up of more than 70 industry and educational partners focused on creating seamless pathways for highly skilled technicians in manufacturing. To learn more about how this pathway can enhance student outcomes, please contact Jason Simon at jason.simon@kctcs.edu or call 270-686-4616.
The Boeing Company is the world's largest aerospace company and leading manufacturer of commercial jetliners, defense, space and security systems, and service provider of aftermarket support. As America's biggest manufacturing exporter, the company supports airlines and U.S. and allied government customers in more than 150 countries. Boeing products and tailored services include commercial and military aircraft, satellites, weapons, electronic and defense systems, launch systems, advanced information and communication systems, and performance-based logistics and training.
Somerset Community College is a comprehensive two-year institution of higher education. SCC has campuses in Somerset and London, and centers in Clinton, McCreary, Casey, and Russell counties.