Somerset Community College's Film Festival Returns for 10th Year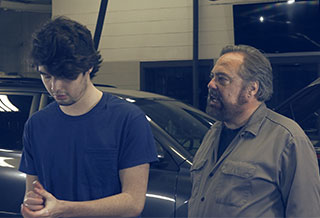 Somerset Community College (SCC) Theatre will host the Tenth Annual Autumn Shorts Film Festival in Stoner Little Theatre on Thursday and Friday, September 13 and 14. A new slate of films will be presented each evening beginning at 7 p.m. Tickets are now on sale and are $3.00 per night. Screenings begin each night at 7:00pm. You may purchase a pass for both nights for only $5.00. SCC's box office is open Tuesday through Friday from noon to 4:00pm. You can contact the box office manager, Theresa Kibby, at 451-6766 or by email at Theresa.Kibby@kctcs.edu.
Twenty-eight short films, selected from over 400 submissions from around the world, will be featured at this year's festival. Films from Spain, Russia, France, Iraq, Malaysia, the Netherlands, The Czech Republic, Iran as well as from Hermitage, Tennessee, New York, Indiana and Somerset, Kentucky will be among the array of short films screened and judged for festival awards.
"The short film is a fascinating art form," says SCC Theatre Director and Festival Producer, Steve Cleberg, "They can offer a story, a vision, an experience or a thought-provoking moving image." Cleberg is pleased with the slate that includes narrative shorts, animated films and documentaries. "We have an astonishing variety of film genres including comedy, drama, fantasy and experimental."
The international nature of the fest has been a tradition since the event began back in 2008. "Our film fest has opened a door for our community to the cultures of the world." Cleberg continued. "It's a wonderful lesson in the differences between various cultures but I am always astonished by those qualities that all cultures have in common."
At the end of Thursday night's slate, SCC's own short film entitled "It Turns on Love" will receive a special screening. The short is based on a play written by SCC English Professor Betty Peterson. "It Turns on Love" examines the struggle between a father and son as they try to find common ground despite their conflicting generational values. The film features performances by the father/son team of Mark and Knox Isham. Mark Isham taught Psychology and was a faculty at SCC for eleven years, he was an active supporter and starred and directed in a number of plays and films produced by SCC Theater and Film Department. SCC's 2018-2019 season is dedicated in memory of Mark Isham.
The Friday night session will culminate with the world premiere of the latest episode of SCC's web series "Summerfalls." The episode, "Take It for a Spin" was written by local author Amber Frangos and features performances by Alex George, Joel Brinson and Mason Tomlinson.
"We hope that this year's fest will be the most enriching" Cleberg concluded. "But I'm confident that everyone will be delightfully entertained by the event."
Below is the schedule for the film festival:
Thursday, September 13th
I Don't Love You Anymore - Francisco Hervada Martín – Spain (2:00)
The Return - Komrakova Liudmila – Russia (8:51)
Sunday - Sergey Vavilov – Russia (3:00)
The Cloud and the Whale - Alyona Tomilova – Russia (3:34)
How To Make a Cloud - Carlos Barquin - Spain (10:00)
Le Chat Doré - Nata Moreno – Spain (6:00)
Ailan - Jubrail Rahman – Iraq (4:00)
Rip Pole - Jorge Yudice – Spain (1:00)
Fire - Maria Shulgina – Russia (13:53)
Škoda Lásky - Jan Bohuslav - Czech Republic (3:00)
Epoch - Jorik Dozy and Sil Van Der Woerd – Malaysia (5:00)
One Case With the Staircase - Ekaterina Kuricheva - Russia (6:58)
Deux Mains - Michaël Barocas – France (4:00)
Special Screening
It Turns on Love – Somerset Community College (12:00)
Friday, September 14th
Chicken Derby - Sergey Vavilov – Russia (1:00)
Birthday Party - Natalia Bereg – Russia (2:44)
Tarask - Oksana Kholodova – Russia (5:41)
In Search of Lost Time - Marta Renzi - Nyack, NY (8:44)
The Last Embrace - Saman Hosseinpuor – Iran – (4:00)
Jump - Aleksei Borovikov – Russia (5:00)
That Smell - Jason K. Allen - United States (11:29)
Night Clerk - Damon Mohl – United States (1:30)
Frogs' Song - Violaine Pasquet – France (10:41)
War - Tino Fernández, Jaime Sánchez – Spain (8:00)
Duet - Mehdi Mirzadeh – Iran (2:00)
I Don't Like Sugar - Wasim Kashlan – Sweden (7:00)
Sjaak's Wife Died, So Now He Needs To Say Something - Eva M. C. Zanen – Netherlands (11:00)
Special Screening
Summerfalls: Take It For a Spin – Somerset Community College (6:00)
You can follow us on Facebook at Somerset Community College Theatre & Film and Autumn Shorts Film Festival.
Somerset Community College is a comprehensive two-year institution of higher education. SCC has campuses in Somerset and London, and centers in Clinton, McCreary, Casey, and Russell counties.