Additive Manufacturing: From Idea to Profit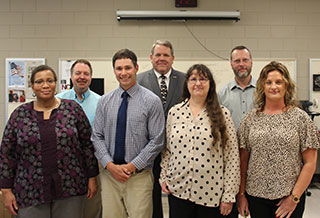 Somerset Community College (SCC) was awarded a $59,602 Rural Business Development grant from the USDA to increase awareness of Additive Manufacturing in the community. The funds will also provide technical assistance to small companies to help them increase profits from Additive Manufacturing, and position our region to capitalize on future production contracts and development opportunities.
SCC's Additive Manufacturing lab will be setting up and demonstrating a new agile production Additive Manufacturing model, training small companies in the best online marketing practices for new product sales, and creating an Additive Manufacturing Guru website channel to provide expert advice and support to our region and beyond for years to come.
Additive Manufacturing, also referred to as 3D Printing Technology, is currently impacting the future of almost every industry. Already estimated to be a $12 billion industry in this year alone, it has quickly transitioned from a new method of creating prototypes to an end-user production method. Many manufacturers are producing their consumer products using AM technology, as opposed to conventional manufacturing methods.
Fortune 500 companies such as GE, Boeing, Airbus, Caterpillar, John Deere, Ford, Adidas, BMW, Porsche, Warren Buffet at Berkshire Hathaway, and all of the armed forces, are spending millions, and in some cases, billions of dollars on Additive Manufacturing. Near Ashland, Kentucky, Braidy Industries paid $75 million to acquire Veloxint, a company that specializes in materials and Additive Manufacturing and is currently building a $1.5 billion plant where such technology may be integrated. To the north, UPS is integrating Additive Manufacturing into their on-demand manufacturing network. Xometry recently acquired MakeTime, a Lexington, based company, a company also specializing in on-demand manufacturing with an emphasis in aerospace and Additive Manufacturing applications.
While Additive Manufacturing is beginning to be adopted by the local industry, it is not being used to its full potential regarding production and market impact. SCC was the first institution of higher education to offer a state-wide certificate in additive manufacturing, in the Commonwealth of Kentucky, and has been a leader in the state regarding technician training and helping small businesses to integrate additive manufacturing into their operations. Now SCC has its sights set on supporting regional, small businesses in utilizing additive manufacturing for end-user products and increasing their sales and profits.
"In our previous research work we found that companies were excited about what 3D printing has to offer and can do for their business," said Eric Wooldridge, associate professor at SCC. "This was especially true for inventors and entrepreneurs, but the problem that we found was in the long-term applications. How do inventors effectively market and sell their products using both additive manufacturing and the new online market places? How will small businesses stay on top of all the new changes in 3D printing technology and materials that are becoming available? This new funding from the USDA Rural Development will make it possible for our region's small businesses to not only receive long-term support in 3D printing technology but also be much more effective in their new product sales."
SCC currently offers a certificate in Additive Manufacturing/3D printing and offers additional training through the college's Workforce Solutions program. To find out more about SCC's additive manufacturing/3D printing program, contact Eric Wooldridge at eric.wooldridge@kctcs.edu or visit us on Facebook.