SCC Physical Therapist Assistant Program Graduates Achieve 100% First Attempt Board Pass Rate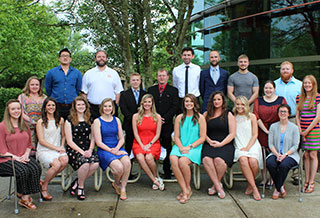 Graduates of the Somerset Community College Physical Therapist Assistant Program for 2018 have achieved a 100% first-attempt pass rate on the national certification examination according to PTA Program Director Dr. Ron Meade.
"I was very impressed overall with the work ethic of this group," stated Dr. Steve Hammons, the program's clinical coordinator. "They have worked very hard and we are proud of them."
This is the eleventh year in the past twelve that the program's graduates have achieved the milestone. Fewer than 10% of programs nationally achieved a first-attempt pass rate of 100% in 2017.
One student, Manoah Carell of Georgetown, scored a perfect score of 800 on the exam. He is only the fourth student in the program's history to have achieved this score. Carrel was also the recipient of the American Physical Therapy Association's (APTA) highest honor, the Mary McMillan Scholarship Award.
Other students were recognized by the APTA included Ky Pak of Lexington, who was elected to serve nationally on the APTA Student Assembly Board of Directors, and was the recipient of several national awards, including the Academy of Geriatric Physical Therapy's Outstanding PTA Student Award, the National Minority Scholarship Award and National Student of the Year. Megan Trimble of Bowling Green was named the Academy of Orthopaedic Physical Therapy's National PTA Student of the Year.
Pak and classmate Anna Bridges of London were named to the Kentucky Physical Therapy Association's All-Academic Team.
The class also participated in the winning effort in the 2018 Marquette Challenge, a national fundraiser for physical therapy research, with the program being named "Outstanding PTA Program" by the Foundation for Physical Therapy.
Several graduates plan to further their education by pursuing advanced degrees. "We are beginning to see more students who ultimately wish to become physical therapists begin that journey here at SCC," reports program director Dr. Ron Meade. "Our PTA graduates have been admitted to doctoral programs at the University of Kentucky, Western Kentucky University and the University of Findlay in recent years and the PTA Program helps to provide a strong foundation for that experience."
2018 PTA Program graduates include: Kelsey Alexander, Glasgow; Callee Bastin, Dunnville; Manoah Carrel, Georgetown; Jamie Conliffe, Georgetown; Tara Elmore, Albany; Ashley Evans, Lawrenceburg (TN); Sage Evans, Albany; Jon Huff, Richmond; Helen Keller, Lexington; Brian Kettler, Richmond; Holly McFarland, Georgetown; Jeremy Napier, Austin; Sarah Noland, Stanford; Ky Pak, Lexington; Victoria Shearer, Berea; Sarah Stamper Withrow, Winchester; Megan Trimble, Bowling Green; Patrick Veitch, Somerset; and Tyler Ward, Brodhead.
Individuals wishing to learn more about SCC's PTA Program may contact the program's director at ron.meade@kctcs.edu