SCC PTA Program named "Most Successful PTA Program" by the Foundation for Physical Therapy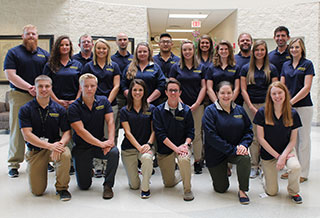 The Foundation for Physical Therapy has announced Somerset Community College's Physical Therapist Assistant Program as the recipient of the "Most Successful PTA Program" nationally for 2018. The award is based upon the program's commitment to fundraising efforts for physical therapy research through the Virginia Commonwealth Mercer-Marquette Challenge, a national fundraising competition for physical therapy research. More than 500 doctoral- and associate-level programs are eligible to compete in the competition. This year, SCC placed among the top 25 programs nationally, receiving an overall Honorable Mention in the competition, including among doctoral programs, and was the top PTA Program.
"We stress the importance of research and evidence-based practice in our program, and are proud that our students take up this cause annually," states program director Ron Meade. "We are excited that the next cohort has already begun fundraising efforts for next year's Challenge."
The Foundation for Physical Therapy supports the physical therapy profession's research needs in scientific research, clinical research and health services research. Examples of projects funded through the Foundation include research related to stoke recovery, cerebral palsy and low-back pain. More than 500 researchers have received grants totaling more than $12 million through the Foundation.
Other institutions recognized in this year's top 25 fundraisers include: Arcadia University; Boston University; Emory University; Indiana University; Marquette University; Mayo Clinic School of Health Sciences; MCPHS University; Mercer University; MGH Institute of Health Professions; Midwestern University and Downer's Grove; New York University; Northwestern University; the Ohio State University; Rosalind Franklin University of Medicine and Science; University of Central Arkansas; University of Colorado; University of Delaware; University of Illinois at Chicago; University of Iowa; University of Miami; University of New England; University of North Carolina at Chapel Hill; University of Pittsburgh; Virginia Commonwealth University; Washington University in Saint Louis; and Wingate University.
This is the tenth time the SCC PTA Program has received the Most Successful PTA Program recognition. This year's award was presented at the Foundation for Physical Therapy's PT Party in Orlando, Florida. To date, the SCC PTA Program has raised over $37,000 to aid in physical therapy research. The program's goal for 2019 is $10,000 and students will begin fundraising in October to coincide with National Physical Therapy Month.