CARE Mentors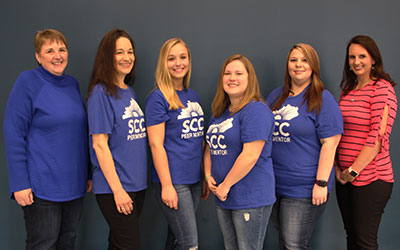 CARE Mentors are available to assist first year students in their successful transition into college by serving as a positive role model and providing support and guidance through regular, consistent and various means of contact during the student's first year at Somerset Community College.
What is a Mentor?
A mentor is a role model. Through a caring and supportive relationship, a mentor will help and encourage you as you learn and grow in your college experience.
Why meet with a Mentor?
You can build a relationship with a mentor, share from your experiences and get guidance from someone who has "been there" as you go through the semester.

Mentoring Services:

1. Help gain understanding
Through an understanding of standards and expectations of a college student, you will realize both the responsibilities and rewards of college life.

2. Help manage your time
You will learn to track your progress throughout the semester and learn where and when to go for help.

3. Help learn effective study habits
There are many great study tips available. A mentor can walk you through what has worked for them in their college experience.

4. Help connect with others
Although a mentor may not have all of the answers, they can direct you to the right person to help with your challenges.

5. Help overcome challenges and obstacles
A mentor will suggest ideas and solutions to your obstacles and challenges.

To speak with a mentor call the CARE office, or email one of the mentors listed on the sheet to schedule an appointment:
Center for Advising, Retention & Engagement (CARE)
Somerset
North Campus, Harold Rogers Student Commons Building, Room 208
(606) 677-8310

London
North Campus, Building 3, Room 122
(606) 878-4833
INTERESTED IN BECOMING A CARE MENTOR?
We are looking for students…
…who want to join the CARE initiative to help new students become:
Informed about Somerset Community College
Prepared for the transition to college
Connected to the campus community
…with the following characteristics:
An interest in helping new students understand college life
An appreciation for people from diverse backgrounds and lifestyles
An enthusiasm for Somerset Community College
An ability to serve as a positive personal and academic role model
An eagerness to become more knowledgeable about campus resources
A desire to develop leadership skills through new challenges
…who will:
Make a commitment to being involved in the program for at least one academic year for 10 hrs/week
Currently have completed at least 12 credit hours with a 3.0 GPA or above
Be flexible and demonstrate good organizational and time management skills
…and gain the following benefits:
Bi-weekly compensation
Member of a team of peers excited to help you succeed as a mentor
Leadership skill development and résumé-worthy experience
An opportunity to work with other outstanding Somerset Community College students and staff
Fill out the application below and submit along with 3 letters of recommendation and return to:
Angela Swim, CARE office - Somerset Campus Harold Rogers Student Commons Bldg. Room 208, angela.swim@kctcs.edu